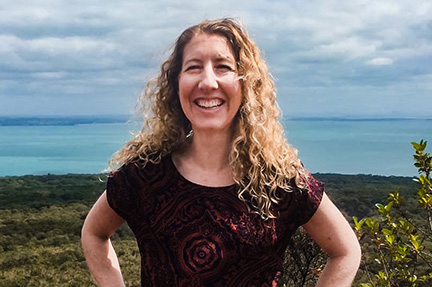 Kelly's Bio:
Kelly Eden lives with her family of six on the edge of a rainforest in New Zealand. She has been a writer for print and online magazines for over 12 years and now runs a
Creative Nonfiction Academy
and
Personal Essay Course
to help other writers tell their stories.
Kelly was a school teacher before entering the writing world, completing her Bachelors in Education and Post Graduate Diploma in Health Sciences, which eventually led her into writing for parenting magazines. She also focused on short fiction early in her career, winning several local awards including a scholarship with the New Zealand Society of Authors to be mentored by international author, Shirley Corlett, for a year.
Kelly then discovered her true passion in creative nonfiction and her personal essays and articles have been published in Mamamia Australia, Scary Mommy, Highly Sensitive Refuge and more. She is also the senior editor of
Inspired Writer
on Medium, a publication highlighting creative nonfiction and writing tips.
When she's not writing, Kelly spends her time homeschooling her oldest two daughters, walking in the bush, renovating her house, or getting involved in something creative in her small community.
If you haven't done so already, check out Kelly's award-winning story "Shaping the Narrative" and then return here for a chat with the author.
WOW: Congratulations on placing third in the Q2 2021 Creative Nonfiction Essay Contest! How did you begin writing your essay and how did it and your writing processes evolve as you wrote?
Kelly
: This particular essay was twice the length initially. I'd been experimenting with braided essays, but I had some fantastic feedback from an editor who suggested cutting it back and focusing more on the mother/daughter aspects. I took their advice onboard and worked on it over a few months. I find when I leave a piece for a while I can see more clearly where it needs editing. After I'd polished it up and cut it down, I sent it to
Chelsea from WOW!
for more feedback. I've been a working writer for over 12 years, but I'm a huge believer that everyone can benefit from feedback no matter how experienced you are. She pointed out some areas I'd missed which was great.
WOW: I agree – feedback for all level of writers is essential, and I'm so glad you got useful feedback from multiple sources. What did you learn about yourself or your writing by creating this essay?
Kelly: I only began playing around with lyric essays in 2020, so it was quite freeing for me after over a decade of more structured magazine pieces. I've always loved when writers weave different threads of a story together. It's something I was able to do more when I was a fiction writer a long time ago. I really enjoy finding those common themes and links in a piece.
WOW: I love that you use the word "playing" to describe your process. Going into a piece with a playful mindset can be so freeing. How did you discover your true passion in creative nonfiction? Was it this passion that also led you to develop the Creative Nonfiction Academy and Personal Essay Course?
Kelly: I was a school teacher and because I wrote a lot of short fiction, I always imagined I'd end up writing for children. But after I got Crohn's Disease and had to quit working, I couldn't stop writing personal essays. I didn't actually know they were called that then; I just wrote little stories about my life. But magazines and newspapers kept picking them up and I ended up with some regular gigs and commissioned work.
Eventually my main work became writing articles for parenting magazines, which is semi-creative but mostly just "How To's" and "10 Ways to Help Your Child Learn to Read." As a busy homeschooling mum, I didn't get a lot of time for experimenting with my writing. My kids are a bit older now though, and I've been able to start playing around with different genre. In 2019, I started getting a lot of commissioned personal essays after writing on Medium.com, and I realised that editors and readers were wanting more personal writing again. I was mentoring a few new writers on Medium and saw that there were a lot of people with great writing skills and a story to tell, but they needed help structuring their ideas. That's why I created the
Personal Essay Course
.
As I started to research other forms of creative nonfiction, I thought, "I wonder if anyone else wants to explore this too?" and several writers showed interest, so I set up the
Creative Nonfiction Academy
, which has been running for almost a year now. I see creative nonfiction as such a fantastic bridge between fiction and nonfiction. You really sharpen all of your writing skills when you focus on it.
WOW: What a great journey through the genre, from not knowing the name of it to now helping and inspiring other writers. Which creative nonfiction essays or writers have inspired you most, and in what ways did they inspire you?
Kelly
: There are so many. Every week in my
Creative Nonfiction Academy
I share an essay from a different writer I've come across and every single one of them inspires me. I love Vivian Gornick's writing style. Her voice in her memoir, Fierce Attachments, is so strong and we can learn a lot from her about scene setting and character. I've also enjoyed Joan Didion's essays lately and Beth Ann Fennelly who writes micro-nonfiction. Again, both of them have such an honest, quirky style that I love. My students always inspire me with their essays, too. One of my personal essay students, Katrina Paulson, recently sent me her piece about losing her father and it was such a beautiful reflection on the different ways her family members were grieving. It was very moving.
WOW: How wonderful to both teach and be inspired by your students! If you could tell your younger self anything about writing, what would it be?
Kelly: When I was seven, I wanted to be a writer, and somewhere along the way I started to think that it wasn't a real job. I let career advisors and teachers tell me what I should do for a job instead, and ended up teaching (which I hated). I would tell my younger self, "Writing is a real job. Don't waste any more time on other things—just do what you love. It's going to be great."
WOW: And it's so inspiring to know that you did, eventually, find your way to writing as a career. Anything else you'd like to add?
Kelly: If writing is a dream of yours, carve out time for it. Even 15 minutes a day. It's worth it. Learn everything you can, get feedback, get a mentor. And send your work off to contests like this one because it brings out your best work and pushes you to refine your writing!
WOW: Thank you so much for that wonderful advice and your thoughtful responses!
Interviewed by Anne Greenawalt, who keeps a blog of journal entries, memoir snippets, interviews, training logs, book reviews, and profiles of writers and competitive sportswomen. Tweets @dr_greenawalt.