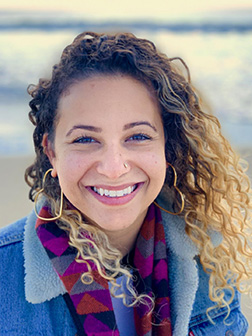 Chelsey Monroe is a builder of worlds. She graduated UCLA as Valedictorian with a focus on playwriting, and brought new worlds to life on stage; after college, using her theatrical foundation, she worked for six years in the magical land of Hollywood, but her true passion lay in creation through language. So she packed way too many suitcases and left Los Angeles for Tokyo to explore the real world and teach English.
Currently, Chelsey lives in San Francisco, California, and writes fantasy, horror, and magical realism novels. As a woman of color, she strives to be the intersectional eye lacking in the grand narrative, telling history, fantasy, and horror, from alternative angles. Her characters defy norms and heroic tropes. Her goddesses are single-mothers juggling two jobs while her gods are ex-convicts and reformed addicts; her princesses are gender-nonconforming, and her princes prefer men. Inspired by the possibility she finds in authors like Octavia Butler and Tomi Adeyemi, Chelsey uses fantasy to create dialogues between cultures and to reimagine our history and society. Her goal is to inspire people to move beyond the limiting patriarchal narratives offered and work to build their own universes—to be in control of their own stories. Chelsey's work has been featured in the 2012 WriteGirl Anthology, and has won the San Francisco Writers Conference Kevin Smokler Scholarship twice, the Murphy School of Writing Get Away to Write Scholarship, and 1st place at the House of Blues Martin Luther King Jr. Poetry Contest.
When she is not writing, Chelsey loves traveling and exploring new cultures, reading late into the night, and baking high-calorie sweets. You can find more of her work on her Instagram
@wilde4writing
and discover more about her via her
LinkedIn
.
Before you read her interview, be sure to read her story
The Talk
then come on back!
---- Interview by Nicole Pyles
WOW: First of all, I loved your story The Talk. It was so poetic with incredible, vivid imagery. What was the inspiration behind this story?Chelsey:
This piece actually started as an assignment for a writing class I was taking with The Writers Studio. Using the techniques from a poem by James Schuyler, I found a way to implement his lyrical yet simple style into a more grounded work of prose. There was a sense of nostalgia in this particular poem, and I thought about how profound people can get when the things they love no longer exist. This led me to wonder how someone could explain these things to a person who had no concept of what they were.
WOW: Oh I love that idea. And I could sense that nostalgia and the longing for places and times gone by in the piece you wrote, actually. How did world-traveling inspire you?Chelsey
: Every place I travel to informs my writing. Sometimes I set a story there, or just I utilize the feelings of that environment. In this story, my character is missing a place we all know: Earth. A place that no longer exists. Travel teaches me about expectations and how to deal when those expectations go completely haywire. It teaches me how to immerse myself in different cultures and use that understanding to reflect upon my own lifestyle. And, most importantly, it teaches me about history and how interconnected we all are. I hear new stories and meet new people, and they weave themselves into my intersectional narratives.
WOW: This inspires me to travel more! I love how traveling opens us all up. What are you working on at the moment? What is next for you? Chelsey:
Next up, I'm finishing my current novel,
The Man Behind the Frame
. The idea actually came to me while visiting an art museum in Scotland, nine years ago, and it's taken all this time since to craft and research. It's a work of magical realism about an old man who can bring art to life.
WOW: That sounds amazing! And how did you transport your reader so vividly in this piece?

Chelsey: For me, the language came from personal experience. What will I miss most if our world isn't able to stop the Climate Crisis? What will I be nostalgic for, and what will feel impossible to describe? I live in San Francisco, and I know I would miss the bustle of the city and the calm of the beach. Immersing myself in these feelings and places, I tried to describe them concretely while also making the emotional details universal.

WOW: This is so true and so inspiring you used what is going on with our environment to inspire you in this piece! For women of color who seek to tell their stories, what advice would you give them?

Chelsey: To paraphrase the legendary, and greatly missed, Toni Morrison: Write the story you want to read. My first novel was a good lesson in this. I was writing what I thought would impress people and not what I wanted to read. When I realized that I didn't have to live up to these imagined expectations, that I could be profound and fun, it really freed my pen. For women of color, it can feel as if we are expected to write only about our trauma--that this is what will sell, and what readers want from us. But you're a reader. What do you want to read? What makes you excited? What book doesn't exist that you wish you could read? Write that.

WOW: I think that is absolutely the best advice. Congratulations again and best of luck with your writing!