Congratulations to Kim Daly and
Three Times in My Life Jewel was Really Important
and all the winners of our
2020 Quarter 4 Creative Non-Fiction Essay Contest!
Kim's Bio:
Kim Daly wrote this story for a friend, during a pleasant walk through the cemetery, and she's happy it found a home in this WOW! Women on Writing contest. When she's not wandering through the cemetery feverishly writing on her iPhone notepad, she writes about pop culture, true crime, and mystery at home. She's also a freelance editor and sensitivity reader, with specialties in reading for biases related to mental illness and LGBTQIA+ issues. In her spare time, she works as copy chief at Workman Publishing, who is also publishing her forthcoming
True Crime Page-A-Day Calendar
. And to answer the burning question undoubtedly on every reader's mind—yes, she has proposed to that "Foolish Games" guy already. You can follow her nascent Twitter @DalyMinutiae.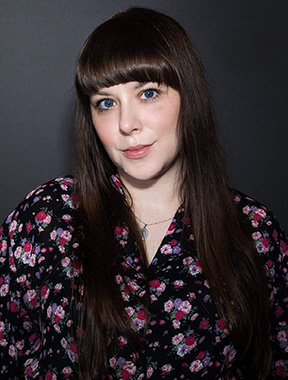 If you haven't done so already, check out Kim's moving story
Three Times in My Life Jewel was Really Important
and then return here for a chat with the author.
WOW: Thank you for writing this essay. I'm a fellow Jewel lover from way back and rather enjoyed the memories your essay conjured up for me personally. What is the take-away you'd like readers to gain from Three Times in My Life Jewel Was Really Important ?
Kim:
I sort of want people to know that I'm not obsessed with Jewel. Some of my friends seem to have gotten the wrong idea. Also, I think the "Hands" incident may have happened in the sixth grade. Memory is such a wild thing. Other than that—it's just interesting to think about what's on the periphery of your life that may tie things together. I've been told I sometimes become over-focused on patterns, but in this case it was productive, I think.
WOW: That's interesting that you've been told you are over-focused, let's concentrate on positivity instead of those non-supportive comments. Who is your support - what have you found to be most supportive in your writing life as well as in life in general?
Kim:
Among the most supportive and inspirational people in my writing life are the brothers Vaky. Nick for support, he's never stopped encouraging me to be and thinking of me as a writer even when I've barely had anything to show for it over the years, while he's out there writing memoirs and movies showing at international film festivals. Nathanael for inspiration—I live with him and he's constantly writing, filling pages and pages of journals with who knows what (blueprints? schemes? nonbinary code? we may never know) just because he "likes it." Writing can be so emotionally fraught for me that if it wasn't for him, I may have completely forgotten that you can write just because you like it! In both writing life and life in general I'll shout out my chosen family Cristina and Marc Chua.
Another cool thing about this story—I was able to show it to Cristina! She is as tenderhearted as Jewel's song "I'm Sensitive" (NOT obsessed), so she can't read most of my true crime stuff.
Most supportive of all is my fiancé, Hennessy, (aka "Foolish Games" guy) who has helped me find the strength to be myself and has agreed to share his life and his wacky queer theater-kid stories with me.
WOW: It's so refreshing to hear there are so many in your life who are supportive and helpful for you - that just makes me smile!
What's next for you? What are your writing goals for 2021 and beyond?
Kim:
Right now I'm working on a book (tentatively) called
The Perfect Crime Reader
, which is forthcoming from Workman Publishing in Spring 2022. I've also been working on an academic mystery series for years, and I very much wish that one day I'll finish at least one of those and fulfill my dream of being a cozy mystery writer.
WOW: I'm sure everyone has enjoyed your essay - Do you have other published pieces (long or short) or books?
Kim:
I write a Page-A-Day calendar, 365 Days of True Crime, published by Workman Publishing.
The 2021 calendar
is on sale now, and 2022 is in production, so we're going strong! I'm grateful to have a steady writing project and an outlet for my way-too-extensive true crime knowledge.
WOW: This is wonderful - I'm glad people can read more of your work!
Do you often enter contests or is this a first? What would you like to tell other authors concerning contests and submitting their work?
Kim:
This is my first writing contest as an adult. I wrote this story to a dear friend of mine who is a fan of Jewel. I was thinking about the three times in my life Jewel was really important to me when I decided to write it down, and I'm really glad I did. Working in publishing, the biggest obstacle to creative writing for me is that thought in the back of my head, "what am I going to do with this??" and it's very difficult to get anything done when you're already so far ahead of yourself. Writing this with just one other person in mind was helpful. By the forty-second pass, that old question popped into my head again, "what am I going to do with this??" But this time I actually had a little story to do something with, so I checked Literisic for a contest that fit the bill, and that led me to WOW! Submitting my creative work isn't the challenge for me, it's getting work done. All to say, if you can focus long enough to create something, that something deserves to be seen, read, listened to, so give it a chance and submit!
WOW: Thank you ever so much for sharing your essay and your thoughts today - we look forward to reading more of your work! Congratulations on your many accomplishments and we hope 2021 is as amazing as you are!
Interviewed by Crystal Otto who just keeps on keeping on!
Check out the latest Contests: