Please check out our first interview on
the Muffin
to learn more about Claire St Kilda and why just one opportunity to interview her just wasn't enough!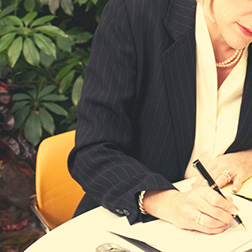 Claire St Kilda was a runner up in our
2019 Quarter 2 Creative Non-Fiction Essay Contest!
Claire's Bio:
Claire St Kilda grew up the daughter of ex-patriots in Africa. After a life of moving from one city to another, Claire has spent the majority of her adulthood in Australia working in advertising as a copywriter and the performance industry as an audio engineer, writer and director. It was only recently that Claire began writing for publication. Her essay, "This Week I Discovered My Daughter..." is Claire's second creative non-fiction essay submitted to WOW. While she's very proud to have been selected in the top 10 of this quarter's competition, she has learnt a very valuable lesson about non-fiction writing—its purpose is far greater than just therapy during your own struggles. Stories like this open discussion on really tough subjects and help readers who might be experiencing similar situations, feel connected and not alone.
Claire is currently working on her debut novel, a teen 'dramady' about drug use in a private college in Australia.
If you haven't done so already, check out Claire's emotional story
This Week I Discovered My Daughter....
and then return here for a chat with the author.
WOW: Thank you Claire for being here with us a second time!
How is everyone doing now? It's been some time since you wrote your essay - do you feel comfortable bringing us up to speed? Hopefully you have good news?
Claire:
Now I can confidently say that my daughter, and life in general, has 180'd. This Saturday just gone, Australia voted to retain its current Government (Liberal/National) and Prime Minister (Scott Morrison), or to elect the opposition (the Labour Party and Bill Shorten). Despite voting being compulsory in Australia, we were impressed that my daughter voted and asked me to accompany her to the polling booth! We've had lots of lovely days together since March – shopping, coffee-ing and gardening together.
Working hard in her waitressing job, she never misses a shift and continues to build on her relationships with us all. We're certainly risking shock and horror if it all changes tomorrow, and some experts have even advised us to prepare for the worst. They've said the smell of meth/crack stays in their nose and the memory of feeling wrapped in a cocoon never leaves the addict.
But who wants to live like that? Actually, right there are two definitions. You could say we're taking things for granted, or that we are living positively in the moment. Either way, our daughter is here with us and functioning as a wonderful member of our family and her community. If it all turns sour and she goes back on the drug, we are experienced enough to work out our way of dealing with it then. In the meantime we shall enjoy life as it is.
WOW: Thank you again for stopping back and bringing us up to speed. Your story, your resilience, your bravery, and your optimism are inspiring!
Interviewed by Crystal Otto who just keeps on keeping on!
Check out the latest Contests:
Read More »