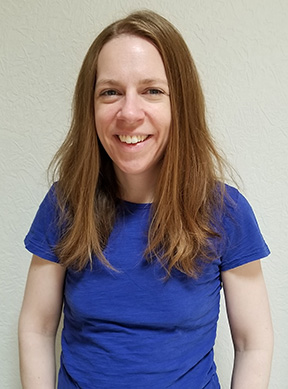 Heather Baver is a writer of short fiction and poetry. In 2016 she began working as a freelance writer for a local lifestyle magazine, adding nonfiction to her repertoire.
Currently she is finishing some long standing writing projects, as well as creating new fiction. She enjoys the camaraderie and encouragement of participating in a writer's group.
Always fascinated by history, Heather loves reenacting old-time radio with SOAP, the Spirit of the Airwaves Players.
Heather lives in Pottstown, Pennsylvania with her husband and two children. Now that her children are getting older, it's time to dust off that long-shelved novel.
------ Interview by Nicole Pyles
WOW: First of all, congratulations on your win! What was the inspiration behind your story They Aren't Listening Anymore?
Heather:
I wanted to explore the gap between who people are versus physical appearance. Radio actors created with their voice--it didn't matter what they looked like. By using their voices as a tool, they became somebody else. It's very freeing--just like writing, you can become so many characters. Kids who attended live broadcasts were often surprised to find out radio actors looked nothing like the pictures the kids created in their minds while listening at home. For my story I wanted to create a person who thrived in the world of old-time radio, but who was unfortunately limited by emerging TV technology. I am fascinated by these transition moments in history.
WOW: What a transforming time it was, too! I read that you love the camaraderie of a writing group! What advice do you have for writers who are looking for a writing group but haven't found one yet?
Heather:
Over the years, I have been lucky to be in writing groups of various sizes. For writers looking to join one, try checking your local bookstores. I happened upon a notice on the bulletin board at a bookstore, and that's how I joined my first group. You could also try forming your own group, either by working with a local bookstore, or by reaching out to friends who are writers. A writing group can be an in-person meet-up to read works and offer critique, or it can be done online with friends sharing comments via email. Another time, a writer friend and I shared pieces by writing letters to each other (as in actual on paper letters)!

Writing groups are a wonderful way to keep writing and to encourage others to create. It is so enriching to see other styles and points of view.

WOW: What great advice! Writing groups are definitely a way to stay inspired and accountable. How did writing nonfiction help you with your fiction?

Heather: My nonfiction writing assignments are all word count specific, so they can fit into the magazine's layout. These word limits have challenged me to be concise and provide detail. You don't want to waste words. Cutting words provides clarity. I try not to look at anything as too precious. Write it down, get it out, then look back and see it is serves the purpose of the piece. If it is filler, lose it to make room for detail. When you've trying to make something fit, you either find a shorter way to say it, or you cut it. Writing nonfiction also got me to look at the types of adjectives I use within a piece of writing. When revising, I make every effort to use different adjectives and find synonyms to keep it interesting.

WOW: That's an excellent way of transforming your writing! You really captured the nostalgia of what your character was experiencing and how hard it was to say goodbye. How did you get into the mind frame to write this?

Heather: Thank you! I find the past fascinating. Pieces of it surround us in old photos, books, and other objects. It's so close but we can't get back there. If time travel were possible, I would be ready to sign up. Writing enables me to test out what it might feel like to actually live there. Also, I have spent the last 15 years as an old-time radio reenactor with SOAP, the Spirit of the Airwaves Players. When SOAP performs, we try to take people back in time. We dress up in 1940s clothing and hats, and we have sound effects table with a miniature door, coconut shells (for galloping horses), etc. I drew on those experiences for this story.

WOW: Oh I love that! That sounds so fun! What are you currently working on that you can tell us a bit about?

Heather: I am working on a nonfiction piece about genealogy and my love of sleuthing for clues about the lives and personalities of ancestors. In addition, I am finishing up a fantasy short story about a woman who time travels to visit herself as a child. In this world you can only visit your own past. You aren't supposed to make contact with yourself, but what if it already happened and you remember from your own childhood?

I also have a longer work in progress about two older women, one of whom is a ghost hunter and buys an old farmhouse. Themes of nostalgia and time travel make frequent appearances in my writing.
WOW: I love your ideas! Congratulations again and best of luck with your writing!