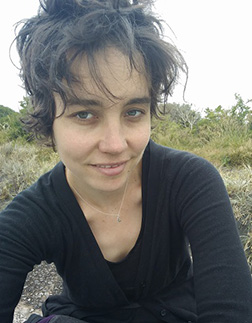 Heidi's Bio
Heidi was born in the Land of the Long White Cloud, to a family of storytellers. She remembers snuggling up with her parents and grandparents, watching worlds dance off their lips and into her imagination. Naturally, the love of stories was gifted to Heidi. She loved to entertain her "imaginary audience" (who often gathered in parks and gullies, and along river banks), as well as any friends who would listen, especially her brothers. Heidi has continued to explore herself and the world through playing with words. She has been awarded the request, by many young listeners. Now, after wandering through the realms of Infant Development, Psychology and Education, Heidi is studying for a master's degree in Creative Writing at the University of Waikato, Aotearoa. You can find her on Facebook:
@herlifestories
If you haven't done so already, check out Heidi's award-winning story "Sacred Geometry" and then return here for a chat with the author.
WOW: Congratulations on placing in the Creative Nonfiction Contest! How did you begin writing this piece and how did it and your writing evolve as you wrote?
Heidi
: I think I started writing in my head when my doctor and I shared that bout of laughter, after my hiding cervix went peekaboo! Part of me loves awkward and bizarre interactions. They are so potent! Then, I was moved by my experience of having the ultrasound and I needed a way to express that. I decided to write it up for WOW, and I had a few days before the deadline. There was no time to overthink, so I just let the thing move where it wanted to go. This piece was very organic. Once I started writing, all the associations appeared.
WOW: What did you learn about yourself or your writing by creating this essay?
Heidi
: I learnt that people want to see my real voice. I forget this and quite often silence my truest truths or hide them deep in my writing. Making it to the top ten has inspired me to continue to explore my boundaries.
WOW: Thank you for sharing your voice with us: we value it and hope you continue to explore it and share it! In addition to creative writing, in what ways have you explored yourself and the world by playing with words? How has that affected your craft?
Heidi
: I love this question! In the years before I figured out the whole reading thing (around age nine, I think) one way I played with words was to make up stories to picture books. My brother, Tim, was my most willing audience (other than the invisible crowd—they were keen 24/7). I remember one time I improvised to a picture of a shark that had a big, cheesy grin. Whatever dialogue I gave that shark made Tim laugh so much, I still remember the high of that moment. It was glorious!
The world is full of stories. I think that the way I played with words as a child taught me to notice my own feelings, ideas and experiences within the images and cues around me. This was a very interactive process. I had to be open to allowing the stories to move through me. It was like I was reading the world through my body. I think this taught me how to engage the listener both through my words, and through my voice. Now, people tell me that they can hear my voice when they read my writing. My University mates also say they love the way I sound reading aloud!
WOW: I love that phrase "allowing the stories to move through me." What a nice visual to an important concept. Which creative nonfiction essays or writers have inspired you most, and in what ways did they inspire you?
Heidi
: The first writers who come to mind are Janet Frame, Patricia Grace, Anne Lamott, Elizabeth Gilbert, and Brené Brown.
Through their stories, they explore being human with remarkable authenticity, creativity, empathy, intelligence and humour. They have inspired me to write in a way that honours both the incredible vulnerability and the incredible strength it takes to be a human amongst humans.
Their unique voices reach me like a soothing balm, inspiring deep healing. They challenge and inspire me to grow. I like this.
WOW: Thank you for sharing some of your sources of inspiration. If you could tell your younger writing self anything, what would it be?
Heidi
: You don't have to sound exactly like anyone else. People want to hear your voice. Don't let your messy hand-writing, slow reading style, and unique approach to spelling (haha!) stop you from sharing your stories. None of these things will matter that much, turns out, because: the internet!!!
WOW: Worthy advice! Anything else you'd like to add?
Heidi
: Thank you so much for this opportunity to share myself with the WOW community. I like the vibe here a lot! Sometimes, I feel a LONG way away from 'the rest of the world', but with platforms such as this, the distance closes. To be able to connect through words is a precious thing.
WOW: Thanks so much for your thoughtful responses. And thank you for sharing your writing with us!
Interviewed by Anne Greenawalt, who keeps a blog of journal entries, memoir snippets, interviews, training logs, and profiles of writers and competitive sportswomen.