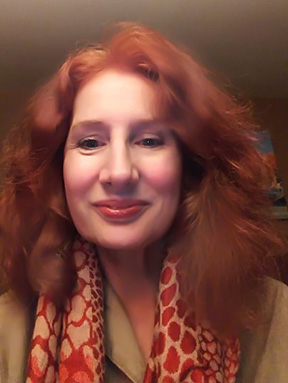 Rachelle's Bio:
Rachelle Allen has a life filled with the two best commodities on the planet: music and children. She teaches private voice, flute, and piano lessons to seventy-four students in their homes each week and, twenty-eight years later, still loves every minute of it.
When not teaching, she indulges in the third best commodity on earth: writing. Currently, she is shopping her memoir, Lessons in the Key of Life, vignettes about the lessons she's learned from the lessons she's taught, to agents and publishers.
On the international writing site, FanStory, Rachelle ranked fifth this year in Novel-writing and seventh for Short Stories and won Book of the Month twice and Story of the Month twice. She also placed first in twenty-five site contests between March and June. In 2012, her story, "A Second Chance With Randall," was published in The Storyteller magazine, and she placed in the Writer's Digest Annual Writing Competition that year, as well. In June of 2018, her story, "Leopard," was among the top ten winners in a WOW contest.
Rachelle is living happily ever after in East Rochester, New York, with Bobby Allen, her husband of fifteen years.
If you haven't done so already, check out Rachelle's award-winning story "Knowing When It's Right" and the return here for a chat with the author.
WOW: Congratulations on placing in the Q4 2019 Creative Nonfiction Contest! How did you begin writing this piece and how did it and your writing evolve as you wrote?
Rachelle
: It really did present itself at the salon as I considered the irony of how this woman seemed to have it all, and yet, there she was with the most fundamental of questions about her life and her happiness. This piece is pretty much a transcript of that day's on-the-spot/not-a-lot-of-deep-thinking response. I do remember having prefaced it to her, though, with, "I'm imagining that none of what I'm about to say will be news to you, but it's my birthright as a Jewish Mommie to tell people things they already know."
WOW: The power of observation coupled with a creative design! What did you learn about yourself or your writing by creating this essay?
Rachelle
: What I learned about myself was that I have come SUCH a long way from my early days of relationships. I made so many mistakes—allowing myself to be constantly disrespected, pretending I didn't suspect infidelity, kowtowing to my then-husband's every whim, choosing to be unhappy rather than divorced. For all I was giving, all I was getting was old! But after I finished writing this article, I realized that those years weren't in vain because they schooled me in the BEST possible way. Thanks to all that turmoil, now I'm able to do a daily victory dance. It taught me that I could learn as much from a bad situation as I could a good one—i.e. that I could BE down, but I didn't have to stay there and that I could always choose to be better.
WOW: Thank you for sharing that with us. It sounds like writing this was a powerfully positive experience. Please tell us more about the role of music in your life. Has it inspired your writing?
Rachelle
: I've been told by several editors that there is a natural rhythmic flow and cadence to my "voice," and that, I feel, is the result of my lifetime as a musician. But music, like writing, is also therapeutic for me. I never quite realized to what degree that was the case until the night I overhead my daughter, then sixteen, on the phone with her friend. We'd just returned from being out driving together, and she said, "I can always tell how well or how poorly I've ever done on any given night of driving by how long my mom has to sit and play the piano when we get home." (True. SO very true!) She added, "And if I ever hear Tchaikovsky, I know I've been ESPECIALLY bad that night." (Equally true because he requires such a vast amount of visceral 'expression,' if you will...) I went at once to my daily "Fly On The Wall" Journal, and turned that into an essay. (Isn't it great that there can be such a rewarding overlap in the creative and performing arts?)
WOW: Yes! Thank you for sharing how it overlaps in your life. And it sounds like your daughter has good observation skills, too! Which creative nonfiction essays or writers have most influenced you, and in what ways?
Rachelle
: When I was growing up, I read Erma Bombeck's daily column in the newspaper. I loved the way she could take the most mundane parts of life and make them entertaining to read. I also cannot get enough of Anne Lamott and her knack for combining wisdom with a wry, almost cryptic sense of humor. And finally, Torey Hayden changed my life with her book,
One Child
. I have read everything she's written, as I have Ann Lamott, because both authors provide such depth and understanding of human nature through common sense. They pull at my heartstrings and make me dig way deep into myself for answers to questions I didn't even realize I had.
WOW: Lovely description of their writing and its effect on you. That makes me want to read some of their writing right now. If you could tell your younger-writing-self anything, what would it be?
Rachelle
: I would tell my younger-writing-self that there are universal truths to be had every moment of the day. Always have your writer's eye and wits about you, and have a pen and pad on hand at all times. Write these gems down the moment you hear them because, otherwise, you WILL forget them. My husband is hilariously philosophical—especially at night when we're schmoozing before we fall asleep, it seems. So, I keep a notebook and pen in the nightstand on my side of the bed for his treasures. Ditto for my students during our lessons because their assessments of life are SO completely spot on. For example, this is from a six-year-old: Know what I've noticed? As people get taller, their sense of humor gets shorter. If that's not fodder for an essay, what is?!
WOW: What a great example! That is a gem! Anything else you'd like to add?
Rachelle
: For the longest time, I was reticent to write essays because I felt "Who am I to be giving advice or making assessments?" But then it finally dawned on me that perhaps the reason I was put into various situations was exactly for that purpose: to share! (To my credit, I was kind enough when that epiphany hit not to add, "DUH!")
WOW: Thanks so much for your thoughtful responses and for sharing your advice and assessments with us through your writing!
Interviewed by Anne Greenawalt, who keeps a blog of journal entries, memoir snippets, interviews, training logs, and profiles of writers and competitive sportswomen.