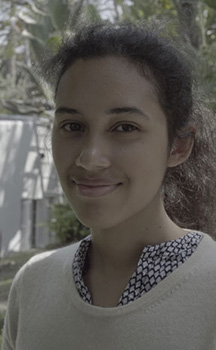 Isabella's Bio:
Isabella Kestermann is a recent graduate from Emerson College with a Bachelor of Arts in Writing, Literature, and Publishing. She is currently working at Free the Bid as a website auditor. Isabella is a nerd who enjoys creepy, bizarre stories that don't scare her but leave her with lots of questions. Maybe that's why her stories are so strange. In her free time, Isabella likes to paint, make doll furniture, and read manga. She is currently working on two short stories, one about vampires and the other about skin whitening cream.
She lives in Los Angeles with her cat Serendipity and her two very awesome parents. You can read more of her work at
www.isabellakestermann.com
or follow her on Instagram
@isabella_asura
.
If you haven't done so already, check out Isabella's award-winning story "Who Is BROWN GIRL?" and then return here for a chat with the author.
WOW: Congratulations on placing in the Winter 2019 Flash Fiction Contest! What excited you most about writing this story?
Isabella:
I first came up with Who is BROWN GIRL? during my senior year in college. I wanted to write about a girl that looked like me but I was struggling. Every time I tried to develop a character, I felt like she was a stereotype or a copy of some other black girl I had seen before. Then late one night I realized that I should just write about how hard it is to tell a story about a brown girl compared a white boy. From there I pulled stereotypes and tropes from movies and books I read as a child. I had a lot of fun doing this but it also made me realize how ingrained these stereotypes are.
WOW: What did you learn about yourself or your writing while crafting this piece?
Isabella:
I learned a lot about my brain in writing this and how the books I read as a child forced/trained me to expect certain kinds of stories (White male-centric stories) while veering away from others. I struggled so much with writing a story about a brown girl, (and still do) because I never saw myself or girls like me in the books I read. It's weird but it's actually hard to create something when you have been thought-policed to not even imagine it.
WOW: Yes! And there are so many people who are excluded from literature and media in general, so it's wonderful that you've taken this step to write about someone/something new. Can you tell us more about the short stories you're writing and what inspired you to start them?
Isabella:
I have two other short stories I'm currently working on. One is a vampire story about a human teenage boy living with his family after they were turned into vampires. It's based on a dream I had a few years back, so I don't have any grand thesis or inspiration behind it; I just enjoy vampire stories. My other story is a sci-fi story about a bi-racial girl pretending to be a robot and her experience with a cream product that permanently alters her skin tone. I wrote the first portion of it for my Afrofuturism class in college, based off of Octavia Butler's story Parable of the Sower, a character from Invisible Man and few other materials, so now I'm just trying to finish it.
WOW: Good luck with your writing process! I love dream-inspired stories, and the story about the other story about a bi-racial girl pretending to be a robot sounds especially intriguing. What are you reading right now, and why did you choose to read it?
Isabella:
I am slowly making my way through The Best American Science Fiction and Fantasy 2018. I've always been a lover of Sci-fi and Fantasy but a lot of it is so euro-centric so I'm trying to broaden my horizons.
WOW: If you could give your younger self one piece of writing advice, what would it be and why?
Isabella:
I would tell my younger self to stop worrying about what other people think and stop writing what I thought other people would like. I wasted a lot of time in college writing work that I thought my teacher would like or give me a good grade. Because of that, I have a lot of stories that I never want to look at ever again, which is a shame.
WOW: That is a difficult habit to break, but definitely great advice. Anything else you'd like to add?
Isabella:
Just want to say thank you to my mom for being my emotional support/editor/No. 1 supporter in the making of this story and really with life in general.
WOW: Thank you again for sharing your stories and for your other thoughtful responses! Congratulations again, and happy writing!
Interviewed by Anne Greenawalt, who keeps a blog of journal entries, memoir snippets, interviews, training logs, and profiles of writers and competitive female athletes.