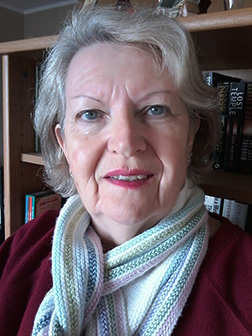 Dawn Rae lives in Cape Town, South Africa where she is a church secretary (because someone has to pay the bills) but belongs to three different writers' groups (because that's where her joy lies). She shares her home with Plum and Honey, cats-of-great-character! Dawn loves books and has been an avid reader all her life, dipping into her mother's 'Book Club' books from age nine. Over the years she has written many poems, short stories and business articles, some of which reached publication. Dawn has self-published four books: Rory's New Coat, a children's book; Milestones, a collection of short stories; The White Glove and The Parrot's Apprentice, two of the novels she wrote through the annual international writing event NaNoWriMo (National Novel Writing Month). Dawn enjoys crosswords, Sudoku, jigsaws and playing board games with a group of ladies. She avoids domestic stuff whenever she can, but so far she has not managed to teach the cats to cook. Connect with Dawn by email at dawnrae1611[at]gmail[dot]com, on Twitter at @DawnRae1611 or find her on Facebook under Dawn Melodie Rae.
If you haven't done so already, check out Dawn's award-winning story "The Ugly Stepsister" and then return here for a chat with the author.
WOW: Congratulations on placing in the Winter 2019 Flash Fiction Contest! What excited you most about writing this story?
Dawn
: A group I belong to, West Coast Writers' Circle SA, has a voluntary monthly assignment (called, coincidentally, WoW - Writings on the Wall). The topic that inspired "The Ugly Stepsister" was to turn a fairy tale around. I confess to being a lazy writer, usually in need of a bomb under my bum, so I try to always write a piece for these assignments. They're short, max 800 words. And I usually find that once I start, I enjoy the process and the satisfaction of getting something done. I've been a member of WCWC for many years, so I have quite a collection of short pieces.
WOW: Sounds like a good group to keep you motivated. What did you learn about yourself or your writing while crafting this piece?
Dawn
: It was a while ago that I first wrote it, but it plays to my quirky sense of humor and I enjoy the process of tightening and refining my writing. A friend once told me, "Write the story and worry about the word count later." It's great advice, so that's what I do. Sometimes it's frustrating when a piece wants to be longer and I have to reign it in, but it is good practice.
WOW: What has your experience been like as a self-published author? Why did you choose to self-publish?
Dawn
: Well, firstly, I was at a writers' workshop recently and it turns out that what I call self-publishing and what they call self-publishing are somewhat different. When I completed my first novel, The White Glove, (actually my second but the real first is my trophy novel, tucked away quietly, existing only as proof that I can do it) I wanted some copies to pass around to family and friends, and maybe sell a few. I had previously been burned by a vanity publisher so felt I needed to do this myself. But I've since learnt I didn't have a cooking-clue what I was doing really. I seem to have skipped a lot of the important steps (laughs) but still it was a wonderful experience and so I did it all over again with my next book. Now it seems I shall have to behave as an adult and do it properly from here on. And why self-publishing? Well, now that I know more about it, I know it's hard work but I have a great support system. I know I can do it and I think I'll like being in control. (But if any traditional publisher out there would like to ease my burden, I'm listening...)
WOW: You have to start learning the process somewhere! Thanks for sharing a piece of your publishing journey with us. What are you reading right now, and why did you choose to read it?
Dawn
: I'm a strange reader. I usually have a few diverse books on the go at once and I read whatever appeals in the moment. But recently I bought Love at Last, a romance novel from fellow author Dorothy Ewels and couldn't put it down until I was done. I must point out, while I love the romance writers of my acquaintance, I'm not a great fan of most romance novels so I don't read many. What I'm actually into right now is The Chronicles of Tevenar series by Angela Holden. I also read Agatha Christie and Conan Doyle, and I absolutely love anything by Connie Shelton or Vered Ehsani (aka Ella Wilde)—neither of these lovely ladies writes fast enough for me.
WOW: If you could give your younger self one piece of writing advice, what would it be and why?
Dawn
: Yeah, that would be, "Write, damn it!" When I was about 14, I sent a short story into a local magazine and it was rejected (very kindly but still). As a result, I didn't write anything for years. So much wasted time. Sigh.
WOW: I think this is a story many writers can relate to! Anything else you'd like to add?
Dawn
: You can't change the past but it's never too late to make a new beginning. I feel I'm on the cusp of that new beginning...
WOW: How wonderful! Good luck with your new beginning! Thank you again for sharing your stories and for your other thoughtful responses! Congratulations, and happy writing!
Interviewed by Anne Greenawalt, who keeps a blog of journal entries, memoir snippets, interviews, training logs, and profiles of writers and competitive female athletes.