Do you have any family road trips planned in the upcoming months?

If a vacation isn't in your immediate future, a short drive in the country may be the perfect excuse to start a new audio book too!

Many people know I'm involved in the book business, so it just makes sense that a friend recently texted the following:
Here's a challenge for you: 4-6 audiobooks that we would all enjoy (road trip prepping for late June). Got any good ideas?
Let's help a mama out!
This particular friend will be traveling with her newly turned adult daughter and her preteen son. I turned to my Mama friends (
Real Mommy AF
) on Facebook and here's what we came up with (along with some comments):

- Harry Potter - Who hasn't heard of Harry Potter? As we all know, this story pulls the entire family into the adventure, but it's even better as an audio book! Action at it's best with the most amazing narration makes any of the titles a great pic for the entire family!
- Hunger Games - This is an Editor's Pick and listening to it enhances the already great story. Pick one book or listen to them all - you'll be delighted. Described as a classic - you won't want to miss an opportunity to enhance your road trip with any or all of The Hunger Games books!

- Divergent Series - This is an epic page turner with over 11 hours you'll find yourself caught up with the characters and great stories.

- The Fault in Our Stars - Described as being a fantastic story, and a wonderful poignant story, this is a book for all ages (including a 71 year old). Don't let the subject of this book stop you from enjoying it!

- The Mortal Instruments by Cassandra Claire - there are so many titles in this series and each one can stand fine on it's own. These books are exciting with creative storylines. Choose one or listen to them all - either way you won't be disappointed!

-
The Percy Jackson Series
- with so many books to choose from and all of them available in audio, this is a great series to break up a monotonous road trip! Clever, Imaginative, and Creative are just some of the words to describe these exciting books!
- The Maze Runner - this is a great book that's designated as being for teens; but the story quickly draws the entire family in and with over 10 hours of audio, The Maze Runner will have your road trip flying by!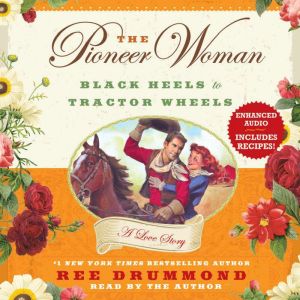 - Anything by Ree Drummond (including: Frontier Follies: Adventures in Marriage and Motherhood in the Middle of Nowhere and The Pioneer Woman: Black Heels to tractor Wheels - a Love Story). You'll love Ree's authentic voice and she's a great storyteller.
And now it's YOUR turn! Tell us more about your summer plans.
What books (physical) have made it to your TBR pile?
What books (audio) would you like to add to your pile of "Road Trip Reads"?
What's one of the best books of the year so far in your mind?
Hugs,
~Crystal
and now...a little more about me...
Shown from left to right:
Delphine riding Honey
Mr. Otto holding Eudora
Crystal riding Marv.
Thank you Forward Farm, LLC
Crystal is a hot mess of busy-ness who has decided to shorten her bio...
You can find Crystal milking cows, riding horses, and the occasional unicorn (not at the same time), taking the ordinary and giving it a little extra (making it extraordinary), blogging and reviewing books here, and at
her own blog
- Crystal is dedicated to turning life's lemons into lemonade and she has never (not once) been accused of being normal!