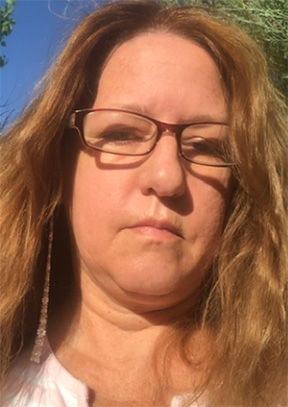 Teresa's Bio:
Teresa Boardman's writing background has largely consisted of legal documents and summaries, policy and procedure manuals, and codes and rules. She started entering flash fiction contests in 2018 to break up the monotony of anything-but-creative writing. She enjoys flash fiction as it gives a vignette in time and often leaves just a bit of uncertainty for the reader to interpret. Teresa is a French Classically trained chef, plus holds a B.S. in Accounting and spent eight years as a Tax Auditor. She describes this transition as going from "cookbooks to cooked books." She considers herself a multimedia artist who sometimes paints with words and hopes to add published books to her list. Teresa has lived outside the Chicago area since 2019, but considers the Oregon Coast her home.
If you haven't done so already, check out Teresa's award-winning story "Martian" and then return here for a chat with the author.
WOW: Congratulations on placing third in the Fall 2020 Flash Fiction Contest! What excited you most about writing this story?
Teresa: I had just watched The Vast of Night which captures the era of 1950's science fiction movies when I received a prompt for a science fiction piece, featuring a lighthouse and a rice cooker. I found myself wondering what a little green man would think about this planet and the fanfare over LGM. As I started to weave the elements together, I tried to capture the solitude and loneliness of the main character, but also the hope. I wanted to be careful not to express his viewpoint in human terms.
WOW: What did you learn about yourself or your writing while crafting this piece?
Teresa: This is one of my favorite pieces. The themes of solitude and loneliness and being left behind struck to the heart of where I was when I wrote it. What probably surprised me the most was the element of hope mingled with longing. It showed me I do have a ray or two of sunshine tucked away.
WOW: I love the way that our own writing can surprise and even delight us sometimes. Your bio mentions that you're a multimedia artist. Please tell us more about being a "multimedia artist who sometimes paints with words."
Teresa: Creative endeavors have always been in my blood. I started writing in grade school and pursued art in high school. I work in photography, painting, decoupage, polyresin, and concrete. I was a chef and pastry chef for over 20 years. I like tactile art. Working with words is so much more difficult. But there is enormous satisfaction when others see your vision. When I write, I have a message that I want to convey in a specific way. I am a student of the conservation of words. I don't always get it right, but I am not one to add in extra explanations and descriptions for word count.
WOW: Sounds like a perfect outlook for a flash fiction writer! What are you reading right now, and why did you choose to read it?
Teresa: I am reading The Children of Time by Adrian Tchaikovsky. My son recommended it to me and I was instantly a fan. It is tightly written with a very unique take on terraforming and the fate of the human race. You can feel the scenes without an excess of words.
WOW: If you could give your younger self one piece of writing advice, what would it be and why?
Teresa: Find a mentor. You need to build confidence in the writing, but also to learn how to get published. Otherwise, it is just a dream journal.
WOW: Excellent advice! Anything else you'd like to add?
Teresa: The hardest thing to do is to start getting feedback. This contest (and others like it) offer the greatest opportunity to receive that feedback. I wholeheartedly encourage anyone out there who hovers over the submit button to follow through. And do it again.
WOW: Thank you so much for your thoughtful responses, and for following through by pressing that submit button! Happy writing!
Interviewed by Anne Greenawalt, who keeps a blog of journal entries, memoir snippets, interviews, training logs, book reviews, and profiles of writers and competitive sportswomen. She has a master's degree in Creative Writing: Prose from the University of East Anglia in Norwich, England and a doctorate in Adult Education from Penn State University. She is also a competitive swimmer, a trail adventurer, a dog lover, and a new mom. Tweets @dr_greenawalt.