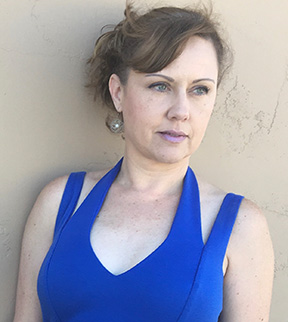 Victoria loves stuff that begins with W: Words, Writing, Wine, Women activists, Wagging tails and her World of family and friends. She is an APA style-certified editor and the founder of
www.LocalEditors.com
, which helps high schoolers craft their college application essays and graduate students polish and publish their theses and dissertations. Her published pieces have appeared in print and online in
Dog and Kennel
,
Moxie Magazine
,
Diablo Magazine
,
Dream in Color
,
Thought Catalog
,
Cricket Magazine
, and more. Victoria is the guardian of a menagerie of critters—two dogs, two cats, a bearded dragon, and a praying mantis named Cujo who inspired her children's picture book,
When a Mantis Finds a Fly in the Sky
, due out in 2021! When not writing, editing, or sheltering-in-place, Victoria works as a wine educator in a Livermore Valley winery on the weekends. She is currently working on a novel about a female-centric winery! She lives with her incredibly fun and supportive husband, Martin, and they are parents to four talented children: Ari, Justin, Logan, & Kaitlin, who are all making the world a kinder and more interesting place to live. You can reach her at: Victoria@LocalEditors.com
Make sure you read Victoria's story
"The Disposables"
and then come on back and read her interview.
-- Interview by Nicole Pyles
WOW: First, congratulations for winning runner up in the flash fiction contest! Your story was so thought-provoking. What inspired this piece?
Victoria: I took a women's psychology course in college and one of our assigned readings was: "The Rape of Mr. Smith" by Connie Borkenhagen. It first appeared in the April 1975 American Bar Association Journal and highlighted the legal bias against rape victims. It was so powerful; it stayed with me all these years. I thought it would be interesting to write a story where women, historically, had all the power.
In any context, evolution equals change and those who have the power don't want to give it up—even if it seems, on the surface, they pay lip service to the idea of equality. The last line of my story is supposed to be humorous, but also indicative of the grandmother's internalized sense of gender preeminence.
WOW: I think you are spot on about those with power. So, what surrounds you when you write?
Victoria: I like to be surrounded by pictures of inspirational women (or quotes from them)—Michelle Obama, Cher, Jane Goodall, Gloria Steinem, Malala Yousafzai, and Tig Notaro. Could you imagine having a dinner party with this eclectic group?
I also love being surrounded by books—I love works by Alice Hoffman, Amy Tan, Maya Angelou, Ayelet Waldman, Patti Callahan, Angie Thomas, and Jhumpa Lahiri. (I also read male authors, but men have always hogged up the limelight, so I'm not going to list them here;-)
I also always have my pit-bull-x, Bella, and Pom-poo, Teddi, near or under my desk—always ready to offer emotional support or give me a nudge when I've been sitting too long. Going for a walk can re-energize me and enable a more productive writing session.
WOW: You have great sources of inspiration around you! How does your work with students shape your own writing?
Victoria: I was just talking about this with my writer friend, Pam McNeilly-Calabrese. When teens are drafting their college application essays, they have to adhere to very strict word counts. For the University of California campuses, it's four 350-word essays; for the common app, it's 650-words and then there's all the supplemental questions that require responses anywhere from three words to 500 words. For their first drafts, I require them to do what Anne Lamott calls the "shitty first draft." I tell them NOT to worry about the word count. When I have in front of me a 1,000-word essay that needs to be edited down to 650 words, there's a lot of carving and shaving that has to happen. Every word has to carry its own weight—no space for freeloaders. When the editing process is complete, they have original, powerfully narrated essays.
When I return to my own creative writing, I find that I am able to apply that same fine-toothed comb to my own stories and they're better because of it. WOW contests are great exercises for the writerly mind.
WOW: That is great advice you give your students. I can't help but notice your writing is often shaped by who - or what - is around you, such as your children's picture book due in 2021 and your current WIP about the female-centric winery! How do you use what surrounds you to inspire your writing?
Victoria: I think because I use writing for both my work and as my way of understanding myself and others, a part of me is in everything I write. I love strong women, animals—whether it's a dog or a praying mantis, and a strong sense of fairness, especially in cultures where the marginalization of people who are different from the norm has been the historical practice. I like people who want to grow and evolve and attempt to understand that no one is completely self-actualized.
The things that intrigue me often find their way into my work. My husband's pet praying mantis, Cujo, has kept me enthralled for nearly a year. We got her when she was ¼" long and she's now 4" long. She's fun to handle but a deadly assassin in a world of crickets and flies. Of course, she had to have a children's book written about her, "If a Mantis Finds a Fly in the Sky…"
The world of wine is a fascinating place in which to be (and where I work on some weekends) but if you look too closely, you'll find that it's dominated by men (at least when looking at the actual winemakers), so I started asking myself questions: What if I wrote about a badass female winemaker and her best friend who's an amazing artist with a degree in business and together they realize their college dream and opened a winery together? What if this happens after one loses her police officer husband to an auto accident? (I worked with police officers for a couple of years). What if one is a lesbian and the other straight? What if each wants a romantic partner but considers the other her life partner and soul mate? And so many more questions… Now I have 200 pages written with another 80-100 to go!
I also wrote a short story about a homeless guy and a pit bull. Most of the story takes place in or around a dog park in Boise. As someone who has a pit bull and has worked and volunteered with rescue foundations, it was easy for me to imagine the kinds of interactions dog owners would have with one another.
WOW: That all sounds so amazing! What does a typical day of writing look like for you?
Victoria: My days have changed since the Covid-19 pandemic struck—my husband now works from home and three out of my four kids are doing distance learning, also from home, so my days aren't as quiet as they used to be. However, I believe we've entered into an elevated space of consideration and appreciation for one another. We all have carved-out areas within the house where we work, individually and independently, but it sort of feels like we're heading up different departments within one company. If my daughter is having trouble with a math problem, one of her brothers is there to help her. When the electricity goes out, my husband is there to give us each a fully charged portable power bank. When I'm on a writing roll, my other son offers to make dinner. When my husband needs a contract proofed, I'm here to do it.
The above didn't really answer the question so here's a more straight-forward response: I usually work on my creative nonfiction projects, short stories, and/or novel in the mornings and then spend the afternoons working with students. After dinner, if everyone seems to be doing their own things, I go back to writing for myself. This is a Monday through Friday schedule. The weekends are reserved for family fun like paddleboarding, hiking, hanging out with friends, antique shopping, wine-tasting, and going to art shows or music concerts. There's also usually a couple of times a month when I'm working as a wine educator in a Livermore Valley Winery.
WOW: You have a great writing routine and a wonderful support system. Thank you again for taking the time to speak with us today. Best of luck wth your writing!