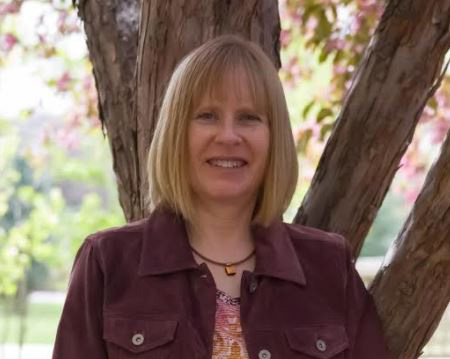 Jenny's Bio:
Jenny Sundstedt grew up as a story-loving bookworm who was destined to try her hand at writing. She lives with her husband and dog in her home state of Colorado, where some days she writes more than she procrastinates, and some days it's the other way around. A long-time member of
Northern Colorado Writers
, she served on the NCW Conference creative team for ten years, which gave her the opportunity to meet and learn from many wonderful writers and industry professionals. She is the author of a supernatural mystery novel, Passing Through, and its upcoming sequel, The Storm Crows. One of her life goals is to write funny, quirky picture books like the ones she enjoyed reading to her sons when they were young. Connect with her at
www.jensunwriter.com
, FB
@JenSunWriter
, Insta
@jensunwriter
.
If you haven't done so already, check out Jenny's award-winning story "Of Silk and Seawater" and then return here for a chat with the author.
WOW: Congratulations on placing in the Winter 2021 Flash Fiction Contest! What excited you most about writing this story?
Jenny: This is kind of embarrassing, but the part that excited me most was rediscovering the partial draft of this story in a work-in-progress folder and having only the vaguest recollection of writing it. (I hope I'm not the only one who does stuff like that!) It was fun to have a chance to look at it with fresh eyes. That led to finishing and submitting it—also exciting!
WOW: I love stumbling upon old, unfinished gems that I don't quite remember. How wonderful that your work-in-progress re-inspired you. What did you learn about yourself or your writing while crafting this piece?
Jenny: A couple of lines made me chuckle, and a couple of lines had what felt like nice emotional depth, which reinforced how much I appreciate a good balance of funny and poignant. I would love to get better at that and bring more of it into my writing.
WOW: I love that one of your life goals is to write a "funny, quirky picture book"! Have you written anything like that before? Do you have a plan yet for how to reach that goal?
Jenny: Isn't laughing with a kid over a book one of the best things? And I'm working on reaching that goal. I'm so fortunate that my critique group includes talented picture book and children's authors who give me excellent feedback. I have two manuscripts I'm submitting now: The Strange Tale (and Tail) of Dogster Jekyll and Muttster Hyde, and Someone To Say It Will Be Okay.
WOW: Great titles! What are you reading right now, and why did you choose to read it?
Jenny: He's such an innovative writer, and I'm sure his take on extinction and the environment will make for a very compelling and topical read. After the past year, though, I don't know if this is the right time or the wrong time to read about what the main character refers to as "how the world ends." I'll have to get back to you on that! I'm also working my way through VanderMeer's Wonderbook: The Illustrated Guide to Creating Imaginative Fiction. It's full of advice, tools, strategies, interviews, and fantastic illustrations.
WOW: If you could give your younger self one piece of writing advice, what would it be and why?
Jenny: I would tell my starry-eyed self "craft before draft." When I first started writing, I assumed that because putting words down was relatively easy for me, that meant I was good at it. I went through a lot of trial and error (so much error!) before I realized how much I needed to learn about the craft of writing, especially tackling a novel. And I'm still learning. I would strongly encourage my younger self to take a few workshops or attend a conference before starting that first draft.
WOW: I agree: craft is important. But so is getting down that messy first draft! I'm glad you're discovering a process that works better for you now. Anything else you'd like to add?
Jenny: Thank you so much for the opportunity to answer these questions! WOW has been an amazing resource for me on my writing journey!
WOW: Thank you so much for your thoughtful responses! Happy writing!
Interviewed by Anne Greenawalt, who keeps a blog of journal entries, memoir snippets, interviews, training logs, book reviews, and profiles of writers and competitive sportswomen. She has a master's degree in Creative Writing: Prose from the University of East Anglia in Norwich, England and a doctorate in Adult Education from Penn State University. She is also a competitive swimmer, a trail adventurer, a dog lover, and a new mom. Tweets @dr_greenawalt.