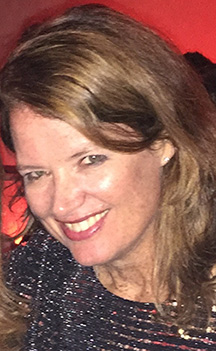 Lynn works in New York City as a Location Manager for Film & Television production, most recently on
The Good Fight
(CBS),
The Good Wife
(CBS), Paterno (HBO) and
Fringe
(Fox).
She holds a Creative Writing degree from Ohio Wesleyan University, where she wrote for the school newspaper and was a DJ at the radio station. Her first job was as a reporter for the
Gaithersburg Gazette
. It was there she honed her writing skills and advanced her appreciation for strong verbs, short sentences.
"Shared Calendars" is her debut flash fiction, developed in a
Women On Writing
flash class with Gila Green
. Lynn is currently writing and submitting a variety of short stories and flash fiction for publication.
She writes in Brooklyn, NY, where she lives with her husband and adorable Cockapoo. Together, they share travel adventures, scuba diving, sailing, and paddle boarding.
Before you read her interview, be sure to read her story
Shared Calendars
then come on back!
----- Interview by Nicole Pyles

WOW: First of all, I absolutely loved your story Shared Calendars. It is like the siren call of everyone who has ever felt stuck in an office job and that desire to live a different life. What was the inspiration behind this story?

Lynn: I got a call out of the blue from a former colleague, and he said, "Why does my calendar say I have a G-Y-N appointment on January 8th?" And knee surgery on the 15th?" To my shock and horror, I realized I'd carelessly put my personal appointments on a work-related shared calendar!

Fortunately, my colleague is also a friend with a sense of humor, so we had a good laugh about it. Then it occurred to me how dangerous this technology could be for someone hiding a secret, like, maybe–having an affair! Juicy!

At the time I was enrolled in a WOW! Flash class with Gila Green, and she had prompted us to use an allusion to deepen our work. The song "Let It Go" came to mind, as it had been sung to me in trapeze class, and the pieces clicked together. Thank you Gila!

That's not to say it was an easy process. I wrote multiple drafts. A flashback within a flash story proved to be quite challenging.

WOW: I love how you used a real life snafu at work to transform your story! You had such strong character development in this piece. And I had to smile at the line in particular, "Other times I had to stifle my maternal instinct and not ask her probing questions, like, how can you live without health insurance?" How did you capture such a strong character in so short of a piece?

Lynn: I took trapeze class for about two years and it was one of the most exhilarating experiences of my life. The instructor in "Shared Calendars" is based on a fellow student who had been a professional aerialist until she had a work accident and suffered a spinal injury. She recovered enough to participate as a student, but could no longer perform at a professional level.

I work in an industry with strong union representation and health insurance. When this student told me that many circus performers aren't in a union, it made me wonder how those daredevils procure health insurance. The topic made me question how much physical risk I'd be willing to take for the sake of performance art. In my 20s, sure, I'd try just about anything without a safety net, but midlife with cranky joints and retirement savings hijacking my thoughts, I'm not so carefree anymore.

But back to your character development question: the real person I based it on is also very funny and beautiful, and I may have had a small girl crush on her. My real-life husband would understand! My fictional husband got to her first!

WOW: Ha ha, and it always results in powerful characterization when we base our characters off someone we know, admire or love! So, I can't help but notice you are adventurous - between your scuba diving, sailing, and paddle boarding. I can't help but ask - have you ever taken a trapeze course like your character? If so, what was it like?

Lynn: I will be forever grateful that I went to trapeze school. I was that student who, at first, could not jump off the platform or let go of the bar – what a thrill it was when I did! As much as I loved the class and the people I met, I reached a plateau on the learning curve where I needed to go at least 2-3 times a week to advance and be physically strong enough to grow.

In my late-40s my body was changing and the pain of muscle recovery became too much, so I gave it up. However, I would encourage anyone interested to go out and try it (after researching the instructors, of course. Some resort outfits might have questionable safety standards!)

WOW: Good to know! You have such an incredible career! (Do you mind me saying how much I love The Good Wife?) How did your career prepare you for writing?

Lynn: I've had the great privilege to work for Robert and Michelle King (creators and showrunners of The Good Wife, Brain Dead, and The Good Fight) for nearly eleven years. I admire their courage to take big risks with structure and format, breaking the boundaries of typical episodic TV formulas. Sometimes an idea fails, but they keep at it, and when it's good, it's very, very good.

The role of a Location Manager is to collaborate with the Production Designer (to find the right look for a location), the Producer (to work within a budget and provide logistics for the shooting crew), and Writers and Directors (to advance the story through a character's physical space). Being in an environment where the drive is to tell the best story possible through a combination of image and dialogue is very stimulating.

I also get to read multiple drafts of a script, and, while I'm not in the writers' room, I witness the process of strengthening a story through re-writes.

WOW: That must help your writing so much to see the rewriting process! What advice do you have for writers nervous about taking the risk and putting themselves out there?

Lynn: Take a class in something that terrifies you, like bungee jumping or public speaking. After you concur it, take that image to your desk and say to the blinking cursor or waiting pen, "You don't scare me anymore!"

My two favorite quotes on this subject:

"Courage is being scared to death but saddling up anyway." - John Wayne.

"When you make music or write or create, it's really your job to have mind-blowing, irresponsible, condom-less sex with whatever idea it is you're writing about at the time. " – Lady Gaga

That Lady Gaga quote is priceless - and inspiring! Congratulations again and best of luck with your writing!