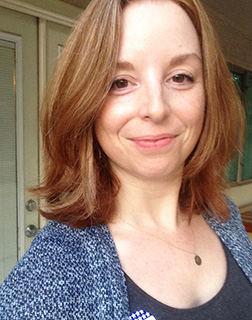 Congratulations to Stephanie Austin and
Paralysis..
. and all the winners of our
2019 Quarter 3 Creative Non-Fiction Essay Contest!
Stephanie's Bio:
Stephanie Austin's short stories have been published in
The Fiddlehead
,
American Short Fiction
,
The South Dakota Review
,
Washington Square Review
,
Necessary Fiction
,
Prime Number
,
Eclectica,
fwriction:
review,
Emrys Journal
,
Carve Magazine
, and
The Sonder Review
. Her memoir has been published at
The Nervous Breakdown
and the
New England Review
. Her most recent publications include flash fiction at
Open: A Journal of Arts & Letters
and
The Jellyfish Review
, and a full length short story in
Pembroke Magazine
. She has flash fiction forthcoming in
Pithead Chapel
. She lives in Arizona with her husband and daughter. Twitter: @lucysky
If you haven't done so already, check out Stephanie's expertly written story
Paralysis..
. and then return here for a chat with the author.
WOW: Congratulations Stephanie! Thank you for writing this expertly written and very moving essay - what is the take-away you'd like readers to gain from Paralysis?
Stephanie:

Grief is a beast.
WOW: Isn't that the truth? Let's talk about how support helps to get us through the times of grief - Who is your support - what have you found to be most supportive in your writing life as well as in life in general?
Stephanie:
My biggest champions are a group of people I met during my MFA. Though I'm in touch with many of them, there's a core group of us who have held on tight for the last ten years since finishing the program. Do you need an MFA to write? No. But the community you build in your program is priceless.
I have a four-year-old daughter, and I'd also be lost without the support of my husband and my mother who both help me find time to write.
WOW: I'm so happy to hear you have such a community and support system! What's next for you? What are your writing goals for the remainder of 2019 and beyond?
Stephanie:
I struggled to write/publish a novel for many years, and I got super wrapped up in my own head about the "failure" of that project. A few years back, I felt I had a good momentum going in my writing and when I did not find success with my novel I fell off a cliff. I've had to rebuild myself. I've gone back to the start line with short stories and essays. Just last March, I started writing a new novel. I'm 16K words in, which might not be much at this point but it's forward motion and sometimes that's all we have.
Along with the new novel, I'm working on a few short stories. I'm also expanding on
Paralysis.
WOW: Stephanie - that's the perfect lead-in to my next question! Is "Paralysis" part of something larger you are working on? It reads like a small chapter of a larger work - if it is, when can we expect to read it? If it isn't - why not? 8) What role has journaling and/or writer's group played in your writing life?
Stephanie:
Yes, it is part of something larger though I hadn't intended that when I wrote it. I started it last year a week or so after I returned home from my cousin's funeral. This answer also wraps into the question about journaling, so I'm going to make it a combo. I journaled a lot as an adolescent and all through college. I kept notebooks. When blogging became a thing, I started a blog and ran that for many years. Every short piece of fiction I wrote started as a journal/blog entry. I stopped keeping handwritten notebooks because I type faster than I write. Journaling/blogging was my daily writing. Even if I didn't work on any fiction on a given day, I'd always journal. Back to my cousin. When he died, I didn't know what to do or how to feel or what to think. I took a few steps back and went back to the journal. I wrote about an encounter I had with a woman on the plane back from his funeral. Her brother had just died. I wrote about attending Al-Anon. I went back to my own heavy drinking periods. Though I've written new things here and there over the last few years, these little pieces became the first cohesive writing I'd done. I've written five or six at this point, and I've put them together as a chapbook. I have a few more in my head, so we'll see. It's a 25 page project, but I could see it going further.
When you journal, it's just for you. I saw what I hoped was a greater message in my experience, but then I waded into that "writing family" territory. What's the line between catharsis and exploitation? I wanted to make Paralysis, and the other pieces that fit with it, less about him and more about me even though they're about him even though they're about me.
If I didn't journal as a kid/teen/college student, I wouldn't be a writer today. If I didn't return to journaling last year, I might not have started my new novel. Journaling is the core of my writing self.
WOW: Thank you again Stephanie! I absolutely love the encouragement your story and this interview provide for those grieving, those writing, and those journaling - you are an inspiration! Thank you for joining us and I'm sure we will hear from you again soon!
Hugs,
~Crystal
Interviewed by Crystal Otto who just keeps on keeping on!
Check out the latest Contests: